Limited Edition Cartoon Butch Americana Album
SKU:
COMING SOON.

Features 6 pages of illustrations by Shelby Baldock related to songs from Butch, and comes with a free bonus track.

"Butch Americana" is the first solo record from Shelby Baldock, featuring the finest musicians working in Memphis today: Michael Joyner, Hope Clayburn, Khari Wynn and more. Spanning over 2 years, pulling from roots music to modern pop, "Butch" is a musical ride like nothing you've ever heard before. Opening with the guitar-explosive "Years After Yesterday," to the journey of "Friends Over There," all the way to the dulcimer stylings of "Prolly," you'll have melodies stuck in your heads for weeks to come and an emotional pay-off only derived from the truth found in musicians themselves. "Butch Americana" comes from the birthplace of America's music and reinvents it all over again.
Powered by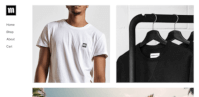 Create your own unique website with customizable templates.