Accompanying the release of Butch Americana will be the Clarity Video Project. I had always wanted a music video, but I never had a clear idea or a particular song. Being a filmmaker, I told myself to make one. But... Nothing. So, then I turned back to Butch Americana and the creation of the music itself. Despite obvious structural choices and lyrics and chord changes, Butch was very much a loose idea from start to finish. Most of it was a feeling, where I would start to dive into something without any real idea of the outcome and only basic melodies and scrambled lyrics, bringing other musicians along with me. Many of them just made up their parts on the spot. Most of the horn parts were written the day of the recording, the ending to Friends Over There, and of course the soloing was all improvised. The results were quite interesting. To me, I sense each person's contribution to their respective parts and songs. Don't Call Me Back would never be what it is without Jacob Simpson's guitar, and Years After Yesterday wouldn't be what it is without Michael Joyner's euphoric electric guitar. I guess you could say it was throwing things, seeing what stuck, then analyzing the sticky parts until you had something inexplicably cohesive.
So, why can't a music video come about like this? Why can't it be born out of fun chaos and a lack of clarity? Why can't there be structure mixed with improvisation? And why can't the filmmaker choose the song? The Clarity Video Project will find directors and videographers of all kinds to pick their own music from Butch to make a video as they would music. There may be two videos covering the same song. But, that's the point! They will inevitably be unique despite the music. And, when viewed all together, will reveal a completely new level of communication for the music, because, let's not kid ourselves, we don't really ever know what the hell is going on, or how to express it. That's why we have music, film, literature, painting... To do something without clarity in a search for something absolutely ineffable is clear enough for me.
The Clarity Video Project will roll out later this summer. Follow me on facebook, twitter, and this site for updates and premieres.

---
| | |
| --- | --- |
| | Interested in doing a video for the project? Contact me about it. Give me some basic information, your experience, and which song and why. I'm pretty open, so don't hold back. |
Powered by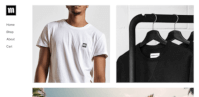 Create your own unique website with customizable templates.