"Butch Americana" is a music project I've been working on for over two years that brings together some of the greatest musicians playing in the Memphis area today. All original material, "Butch" is a joyous and emotional musical experience.

I started playing drums when I was in the fourth grade. From there I learned from the amazing musicians in the Raleigh Baptist church band. Roger Smith, the incredible bassist, would stop me, telling me not to overplay. I've moved on from the church now, but I don't regret a minute there. I gained some sort of spiritual sense and emotion to whatever I pour myself into.

When I moved away for college, I became a praise leader for a collegiate ministry. Things started feeling weird. It wasn't just what I was hearing, but feeling. To put it simply, I couldn't explain what was happening to me and no one had a sufficient answer. I toiled with the church and God. That's when I left and that's when I discovered I had kidney disease. It's such an odd disease. You feel like you're completely abnormal and normal all at once and no one has a clue. The time between learning and transplant is quite a while - years. In that time, I traveled the country with the North Mississippi Allstars, played music for countless musicians, made films... I finally moved away and for the second time, I was forced back home. This time, things were much more serious. The need for transplant was now.

For the past seven years, I've dealt with the chaos of chronic kidney disease, and this album is me fighting back. The songs were all written leading up to my transplant. It can easily be a negative experience, so I've wanted to make a joyous and sometimes funny statement to everybody and to myself. No other medium explores joy like music. In it's ups and downs, "Butch" expresses everything I wish I could form into words. Well, music is better than words anyway.

These are my friends, fellow musicians, fellow Memphians. They make this album a great time. And, of course, it's impossible to say anything about this project without mentioning the hard work Michael Joyner poured into this. Engineering, mixing, playing guitar, singing. A true Memphis talent.

I hope you enjoy it as much as I do. This is some of the most inspiring work I've ever done and I'm proud to have had these incredible musicians working with me:

Hope Clayburn, Matthew Garth, Michael Joyner, Khari Wynn, Matt Karner, Will Lowrimore, Robert Allen Parker, Jeff Culley, Victor Darnell Sawyer, Charles Ray, Chatt Graham, Pierce and Reece Martin, Jacob Simpson, Mike Martin

Do enjoy,
Shelby

CLICK HERE to read the interview by The Grind Memphis, which sheds a little more in a much more conversational way.
Powered by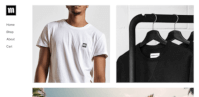 Create your own unique website with customizable templates.